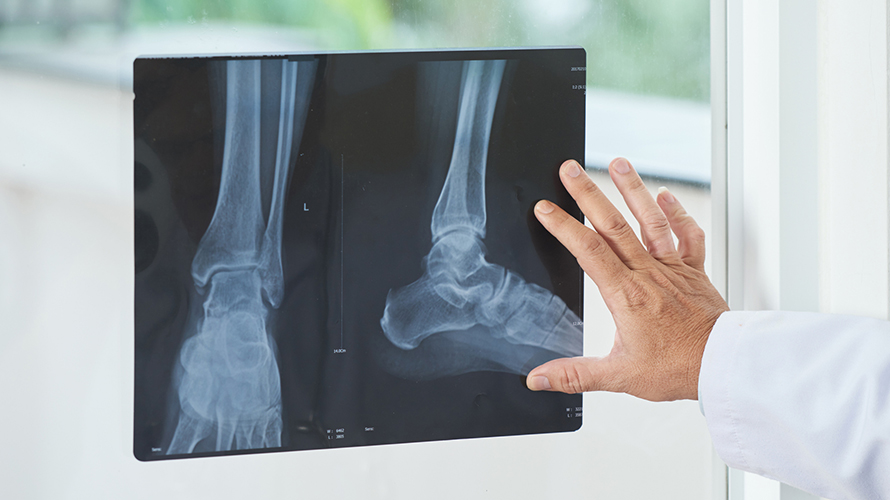 Treat any serious ankle injury as a potential broken ankle
The right diagnosis will help you heal better, and faster.
The ankle consists of three bones:
Tibia – shinbone
Fibula – smaller bone of the lower leg
Talus – a small bone that sits between the heel bone (calcaneus) and the tibia and fibula
When one of these bones are broken, it may not stop you from walking. But if several bones are fractured it forces your ankle out of place and may take some months to heal. The more bones that are broken, the more unstable the ankle becomes. If the ligaments that help support this joint are also damaged, then the fracture is more severe.
Common causes:
Twisting or rotating your ankle
Rolling your ankle
Tripping or falling
Impact from a car accident
Symptoms of an ankle fracture:
Immediate and severe pain
Swelling
Bruising
Tender to touch
Cannot put any weight on the injured foot
Deformity ("out of place"), particularly if the ankle joint is dislocated as well
Why it's essential to consult a foot and ankle specialist to evaluate your ankle
Corrective action for a suspected ankle break is vital because the long-term health and stability of this important joint hangs in the balance. Dr. Marc Frankel will use one or more of these imaging tests to determine the severity of your injury.
X-ray
Bone scan
CT scan (computerized tomography)
MRI (magnetic resonance imaging)
Treatment
Depending on which bone has been broken and the degree of injury you have experienced, Dr. Frankel will provide you with a clear explanation of treatment options.
Ankle fracture treatment without surgery
If a fracture only includes one bone, and if there are no gaps or rotation at the site of the break, your foot and ankle specialist may recommend an ankle brace and follow-up physical therapy. This means you can go home and care for yourself following the RICE treatment:
Rest: Avoid using your ankle to prevent further injury and pain
Ice: Ice is an excellent tool for reducing pain and swelling. Apply an ice pack (covered with a light, absorbent towel to help prevent frostbite) for 15-20 minutes every two to three hours during the first 24 to 48 hours after your injury. If you don't have an ice pack, a bag of frozen peas or corn will work just fine. 
Compression: Wrap the affected area with an elastic medical bandage (like an ACE bandage). You want it to be snug but not so tight as to interrupt blood flow. If the skin below the wrap turns blue or feels cold, numb, or tingly, loosen the bandage. If these symptoms don't disappear right away, seek immediate medical help.
Elevation: This means raising the sore body part above the level of your heart. Doing so reduces pain, throbbing, and swelling. Prop your leg up on pillows while sitting on the sofa, or in a recliner. The Center for Disease Control (CDC) recommends you keep the injured area raised whenever possible.
Surgery to stabilize and heal a broken ankle.
As an experienced foot and ankle surgeon, Dr. Frankel can perform an open reduction and internal fixation (ORIF) to bring your bones back into place and help them heal.
You are more likely to need ORIF if:
The pieces of your leg are significantly out of alignment
Your broken bones punctured your skin
Your bones broke into several pieces
Your ankle is unstable